Frequently Asked Questions
What should the target relative humidity be in buildings?
According to the Occupational Safety and Health Administration (OSHA) and the American Society of Heating, Refrigerating and Air-Conditioning Engineers (ASHRAE), the recommended comfort range for relative humidity levels is between 30-60%. DriWay Technologies devices can help reduce a building's relative humidity below 60%, the point where mold cannot grow.
Does DriWay Technologies eliminate condensation on the wall or is it removing the relative humidity in the air?
DriWay Technologies reduces wall condensation both by dehydrating them as well as by eliminating the contribution to relative humidity in the air that was being caused by moisture. DriWay Technologies directly prevents water from rising in the walls to basement and ground floor environments and consequently, reduces the condensation and humidity in the air.
Which product is right for each building?
The DriWay Technologies DW Series offers a permanent, eco-friendly solution for buildings to address invasive moisture and other water-related hazards. Each of our dehydration devices is offered in three sizes, each with an increasing coverage range.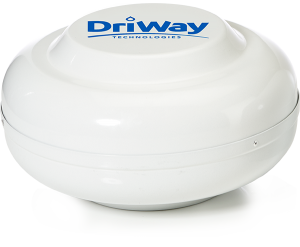 DW1
1,000 sq. feet / 100 sq. meters H: 6.5 in x 12 in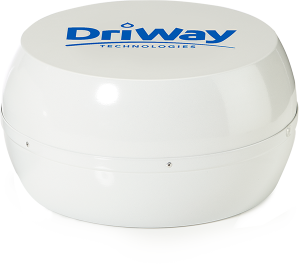 DW3
2,000 sq. feet / 200 sq. metersH: 6.75 in x 13 in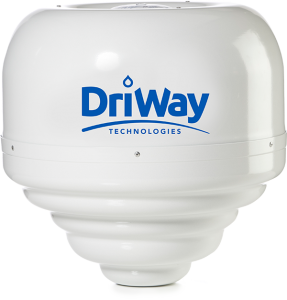 DW5
5,000 sq. feet / 500 sq. meters H: 14 in x 14.5 in
Should the product be installed in the center of the area when installing?
The installation process and positioning of the devices is subject to an analysis of the environment and varies depending on the evaluation of our trained installation specialists. According to the nature and sources of the humidity, building layout and potential frequency interference, we design a custom solution and install one or multiple devices to cover the footprint area of the building. These may include several smaller devices or single, more powerful ones which cover different areas.
What happens if humid air comes in from outside, does the product work even in this case?
DriWay Technologies' dehydration devices act by reducing the humidity contribution of water in the walls and its effect can be enhanced by other moisture reducing measures. It will not however eliminate humidity and condensation being caused by other sources such as external ambient humidity or water filtrations.
Humidity is often countered by the use of HVAC systems which incur electricity, operation and maintenance costs. How does DriWay compare in terms of costs?
DriWay Technologies' dehydration devices do not use electricity to operate, nor require operational maintenance. The return on investment varies depending on the client's electrical and operational expenses as well as losses due to damages. As part of our commercial services we work with clients to develop individualized ROI calculations versus their current solutions. If they are using air conditioning exclusively to combat humidity caused by invasive moisture, the cost differential is very high in comparison.
What is the life cycle of the product?
As long as it used to specifications, it will work indefinitely.
Does DriWay Technologies require maintenance?
DriWay Technologies' dehydration devices do not require any operation or maintenance on the part of the client. However, a quarterly onsite visit by our certified technicians to perform measurements, evaluate potential changes in the environment, (humidity and wireless interference) and monitor progress is required. The warranty is subject to this maintenance service.
Is DriWay Technologies certified through a testing laboratory by an accredited institution?
DriWay Technologies intellectual property is protected by: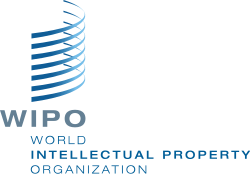 WIPO World Intellectual Property Organization
WIPO was created to promote and protect intellectual property (IP) across the world by cooperating with countries as well as international organizations.www.wipo.int
Safety has been validated by:
Registration, Evaluation, Authorization and Restriction of Chemicals (REACH)
Leading agency of EU regulation addressing the production and use of chemical substanceshttps://echa.europa.eu